Adventure Bass Fishing in Kogai River,Kinu River and Ono River in Ibaraki Japan.
Use a small boat to attack the points where Super Shallow fields.
We will guide you to exciting and unprecedented Bass Fishing experience in the nature of all seasons! Recommends April to September.
Let's find out together for powerful bass in natural river!

We use properly 2 type of boats 
"Wizard Punt WP-330VW Wide" in this boat only one guest boarding available. Use for super shallowand narrow field.
 "WJ-386D-M2" Boarding 2 guests available. this boat has high stability performance and comfortable fishing. Use for Medium size river field.
Boat equipment
・Fish Finder MEGA360 IMAGING HUMMINBIRD HELIX 9 CHIRP MEGA SI GPS
・Electric Trick Motor MINN KOTA ULTREX 80lb
・Engine
Wizard Punt WP-330VW Wide Mercury 5hp
WJ-386D-M2 Mercury 25hp
The fishfinder provides a clear image of underwater schools of fish, structure, and topography, so you can see the images in your mind. .You can see where the fish are and which way they are moving. The latest electric trick motors allow you to concentrate on fishing even in the fast currents of the river, as the boat position can be fixed by automatic control.
There are the bass we would like you to catch!
  1 Day Fishing
Customer use their own tackles.
 7am-17pm  US$450 / per person
Rental Fishing Tackles US $50
Includes Beverages Beer ,Coffee, Juice and Water
Please bring your own lunch, , and waterproof shoes in case of rainy day.
Options 
Steak Lunch Set on boat with red wine or beer   US $50  
Kazuma Yoshigai (吉開 和真)   Born February 9, 1986, from Kawasaki City, Kanagawa Japan.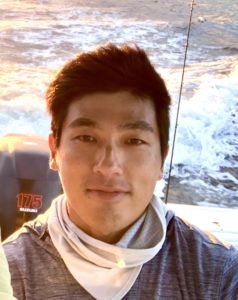 I'm as a full-time river bass fishing guide in Ibaraki Prefecture from 2017. Started salt water fishing Guide since 2021.
Since childhood, I enjoy fishing with the sea, rivers and lakes many times. Under the fisherman  grandfather, I started fishing from an early age about 5 years old and learned about the splendor and fear of the sea in Kumamoto Prefecture in Japan. From teenagers, I'm addicted to bass fishing, went to whole Japan and on overseas expeditions, fishing in New Caledonia, New Zealand, Australia, Thailand and Philippines. Also I am familiar with Scuba diving and love to observe the ecology of fish. I would like to do my best for many guests have a wonderful time and having fun, knowing about river Bass Fishing and Ibaraki Japan. I am looking forward to see you and go fishing together! Thank you for reading and thinking about using our services.